CALL FOR PAPERS
ICME, INTERCOM & ICOM Azerbaijan Joint Conference
Postponed to April 2021, Baku, Azerbaijan
Transforming Collecting Policies in Museums: the Need for Leadership and Societal Responsibility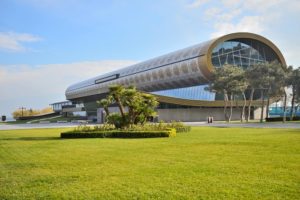 Deadline for submissions: Extended until August 15th 2020
Session 1: Decolonizing Museums: Restitution, Repatriation & Healing
Session 2: Museums and Ethnotourism
Session 3: Leadership and Museum Management for Our Times
The Boards of ICME, INTERCOM & ICOM Azerbaijan are pleased to announce the call for papers for the joint conference to be held at the Azerbaijan National Carpet Museum (the oldest and biggest carpet museum in the world) in Baku.
We live in a complex, confused and fast changing world. Museums are very important cultural and social institutions and must respond to and reflect these changes. Museums are responsible for making their visitors and the wider society conscious of current debates through their actions, exhibitions, events and activism. The challenges of decolonizing museums, engaging with ethnotourism and providing museum leadership that enables museums to address important contemporary issues are relevant, and provocative themes for our Conference. The themes all confront the role of our museums in our time and the future. If decolonizing the museum means repatriating objects what does this mean for our collecting policies? How do ethnographic museums engage with the increasing tourist demand for `experiences' with real people? How should the management of museums plan for the future and change their practices and governance structures to respond to new expectations? We invite you to participate in this challenging debate!
The main aims of the conference are the following:
– To open a dialogue between scholars of Ethnographic and other museums and to offer a platform for the presentation and discussion of recent research;
– To highlight the significance of the concepts of Decolonizing Museums, Ethnotourism Management and Leadership and Museum management for our times;
– To facilitate a global dialogue on these themes by bringing together museum professionals from all around the world,
– To critically engage with existing theories and methodologies and to provide a platform for the presentation of new research and initiatives that will help us to tackle these core issues and the ways in which we might transform the concept of `collecting' that has defined museums for decades.
Conference participation
Scholars and museum specialists from around the world are invited to submit their proposals for contributions that will speak to one of the three themes: Decolonizing Museums, Ethnotourism Management and Leadership and Museum Management. Graduate and doctoral students are also encouraged to submit their proposals.
Each session will be opened by a keynote address of invited speakers.
Submitting a proposal
ICME, INTERCOM & ICOM Azerbaijan invite proposals for contributions that relate to one of the three themes of the Conference. Presentations can be made in two forms:
1. Paper/Power point presentation (15 minutes)
2. Flash presentation (8 minutes)
Proposals should include the following information in English
1. International committee, No. of ICOM membership
2. Which programme theme you are applying for and the preferred form (paper/Power point presentation or flash presentation)
3. Title of submitted presentation
4. Abstract (do not exceed 300 words)
5. Name(s) of Author(s)
6. Affiliation(s) & full address(es) & email address
7. Support equipment required
8. All submissions must include a 100‐word bio with a photograph of each presenter.
Please send proposals as soon as possible as a Word Document attachment to the
e-mail: icom.azerbaijan.secretariat@gmail.com with the subject reference "ICME & INTERCOM proposal (your name)".
The proposals will be evaluated by the Joint Conference Committee of ICOM Azerbaijan, ICME and INTERCOM
Committees will offer a grant for one or two presenters who are their active members. The call will also be published on the links above.
Conference Committee
ŸAli Mahfouz (Egypt), ali_mahfouz55@yahoo.com
Christina Kreps (USA), christina.kreps@du.edu
Heidi McKinnon (USA), heidi.mckinnon@gmail.com
Serena Iervolvino (UK), serena.iervolino@kcl.ac.uk
Taku Iida (Japan), iida@minpaku.ac.jp
Tone Cecilie Simensen Karlgård (Norway), t.c.s.karlgard@khm.uio.om
Viv Golding (UK), vmg4golding@gmail.com